"The right question asked at the right time can change a life forever" ~Unknown
Last week I talked about the last 2 points of how to give yourself a second chance. This week, we look at a new question:
Question 2: What's your story?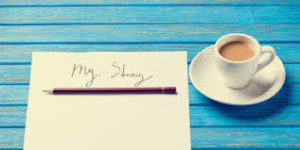 I was on a flight home from a set-up trip to Grenada (in the West Indies). There were 5 in our group. In 12 months, I would be leading a team of 25 students and adults on a humanitarian effort. I was sitting next to Rick, the leader of our team, and he asked me the question, "What's your story?"
I'd never been asked that before. I just looked at him and said, "I don't have a story." He looked confused and said, "Well then, tell me about your life. What was it like growing up until now?" I told him about having an alcoholic, very abusive father who abandoned us when I was 10. A mother that worked double shifts, 7 days a week, as a waitress to raise 5 kids. About the embarrassment of growing up with dyslexia and believing that I was dumb and not being able to read or write well enough to pass my classes. That I was labeled a slow learner, stubborn, and someone who just doesn't want to learn by my teachers, and a "loser" by my 9th grade baseball coach. When I graduated from high school I had no direction and no confidence for my life.
I shared in greater detail and then answered a few other questions he had to fill in some gaps. When I was done he said, "You need to share your story. You need to create an assembly for high school students." I said, "What would I say?" Rick looked at me at said, "Just tell them what you told me." I was ashamed of what I just told him. There was a lot of pain that I didn't want to relive. I'd spent my childhood making excuses for my dad and what we went through. I did it to convince people that things weren't that bad. I think I did it to convince myself more than anyone else.
I'd never thought of it as my story, it was just the stuff that happened growing up. Rick continued to encourage me to "share my story." Honestly, it was a little discouraging. I just couldn't figure out what to say. There was really nothing good in it. When I got home I thought about it for a few days and then started writing. Within a few months I had the opportunity to speak at a high school Baccalaureate. I'd taken my story and created a talk called UNDER THE INFLUENCE. I only had a few points:
Everyone's influenced
Influence is Unseen Power, the power to change. We don't see influence we only see the result and that's what makes it so powerful.
What we allow to influence our lives will determine our outcome.
I talked about the 4 things that influence all of us: Our families, Our failures, Our friends, and Our future. When I was done I received a standing ovation. I was blown away. I had parents, faculty, and students thanking me for being open and honest about my life and that it helped them. Many said they could relate. Others said it helped them.
A few things I've learned:
Everyone has a story.You may not have thought about it, but you do. You may think you don't have a story because it's not filled with pain and disappointment, and that's a great story. Sharing your story could bring hope and inspiration to others that have gone through or are going through similar things.
Your story matters.Many times, shame, regret, embarrassment, and pain keep us from wanting to be open about who we are and what we've been through. Sharing your story is not about finding sympathy, but understanding. Not to make excuses, but to provide an explanation. To create context, to learn, become stronger, and create a better future for ourselves and others. The world needs your story. Your story shared by you can be a voice of hope for others!
There's a bigger story.We're not that much different from one another. We've all gone through stuff and as long as we're alive, we'll continue to do so. And we all have a certain amount of brokenness. When we share our stories, we connect with others on a deeper level. It's here that we begin to understand one another. And understanding helps us forgive, reconcile, and heal. I remember the day I learned about my dad's story. It was filled with pain. It didn't excuse what he did to us, but it helped me understand him and forgive him.
I never knew I had a story and I didn't know it could help someone else. That question changed my perspective about my life and how to live it!
What's your story?