"I may be done today, but I'm not finished"  – Terry Gurno, IRONMAN Finisher
Two years ago I sat in my truck having a conversation with my son Levi, a conversation that would ultimately change my life. I mentioned I wanted to do the IRONMAN Triathlon but immediately offered up excuses why I could never do it. Levi just completed it and it was one of the most inspiring things I'd ever witnessed. More than crossing the finish line, it was all he had to learn to do and all he had to overcome to do it. It was one of the greatest days in our families' lives.
As I gave him my excuses he hit every one head on.  Excuse #1, "I can't swim".  "You could if you started".  Excuse #2, "I have bad knees and couldn't run the marathon".  "Through your training you'll lose weight making easier on your knees and you can walk the marathon and still make it".  Moment of honesty, "Dad, do you want to do it or not?"  Wow that hurt, he went right to the core of the issue.  Do I want to do it or not?  I knew the answer right away, "Yes", but I was afraid to say it.  I was hesitant to commit.
What kept me from saying it and acting on it was fear and doubt.  Fear of the unknown.  I knew it would change the way I was living my daily life, change my schedule, and finances but I didn't know how.  That's where the fear came in.  How much pain was it going to involve, could I pay the price, could I endure the challenge?  And there was doubt, lots of doubt.  Could I actually do it? Could I handle the training?  Could I learn to swim?  I looked at him and said, "Yes, I want to" and I committed right then and there.  I was still scared, but I was excited to.  I still had the fear and doubt questions, but I was on my way to being able to do the race.
Here's what I've learned.  Most of us have dreams and desires that we bury with excuses because of fear and doubt.  We make living our dreams and creating the life we want much harder than it needs to be.  Whatever your dream or desire is, the question is "Do YOU want to or not?"  If the answer is "No" that's ok.  Feel free to move on to something you really do want to do.  If the answer is "Yes" then commit and do it.  Fear and doubt won't automatically go away. You will have to deal with them head on and they won't master you or hold you back anymore.
Once I committed I found out what I needed to do for training and nutrition.  Swimming was so frustrating.  I was not having fun, at first.   I kept at it.  I learned how to breathe and swim with the proper form.  I was told that it would come, just don't give up.  The first two weeks I thought for sure I was the exception, that it came to everyone just not me.  I still didn't quit.  Week three I got it and I started having fun.
Too often when we're pursuing our dreams we give up too soon.  We get frustrated, discouraged and stop believing it's possible.  Don't give up.  It's supposed to be hard, uncomfortable, discouraging and frustrating.  If it were easy it wouldn't be worth it.  Over the next 20 weeks I trained, improved and became more confident.  My son and I talked every day encouraging each other and holding each other accountable.  We also met some great people along the way on the same journey.  We helped each other with training, nutrition, encouragement and feedback.  It was awesome.
Race day came.  We got ready, told each other we loved each other, and took our starting places.   I made the swim in one hour and fifty-one minutes.  I just overcame my biggest fear and doubt.  Now it was on to the bike.  It was brutally hot that day, 107 degrees.  I made my first 56-mile loop and then started having problems on my second.  The heat got to me and I lost strength and dropped 4 mph.  I missed the 90-mile cutoff by 15 minutes and I was disqualified. All we had ever talked about was what it was going to be like for us to finish and become IRONMEN and how he would put my medal around my neck.
I was really disappointed.  I hadn't prepared for this.  I got a ride back into town with the rest of the "Disqualified" riders.  I saw my wife right away and she said Levi really wanted to see me at the 13. 1-mile turnaround of the marathon.  It was the first time I would see him since the start of the race.  He was running up the course and when he got to me he fell into my arms weeping.  All he could say was "I'm sorry" over and over again.  But I wasn't sorry.  I loved every minute of it.  Not just the race but also the training together, the relationships we made, the struggle, everything.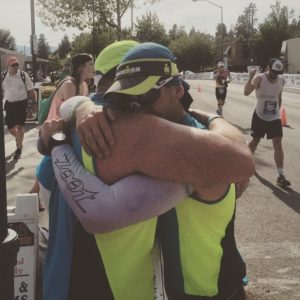 I looked at him and told him that I wasn't disappointed and he shouldn't be sorry.  "Because of you I did something I never thought I would do.  I have no regrets. And I will finish, just not today".  I meant every word of it.  Right there with my son in my arms I recommitted to my dream of becoming an IRONMAN.  We've all heard that failure is a part of success.  We've probably encouraged others with those words, but there comes a time when those words must become a core belief.
Don't focus on the failure; focus on what you have to do to reach your dream.  Don't dwell on what went wrong, dwell on what you have to do different.  Not everything works out the way we want, the way we imagine or in the time we want it, but that doesn't mean it won't.  It will if you keep pursuing, committing to the process and surround yourself with the right people.
Fifteen months after being disqualified I crossed the finish line of the IRONMAN Coeur d'Alene 2016 and heard those words I worked so hard for;
"TERRY GURNO, YOU ARE AN IRONMAN".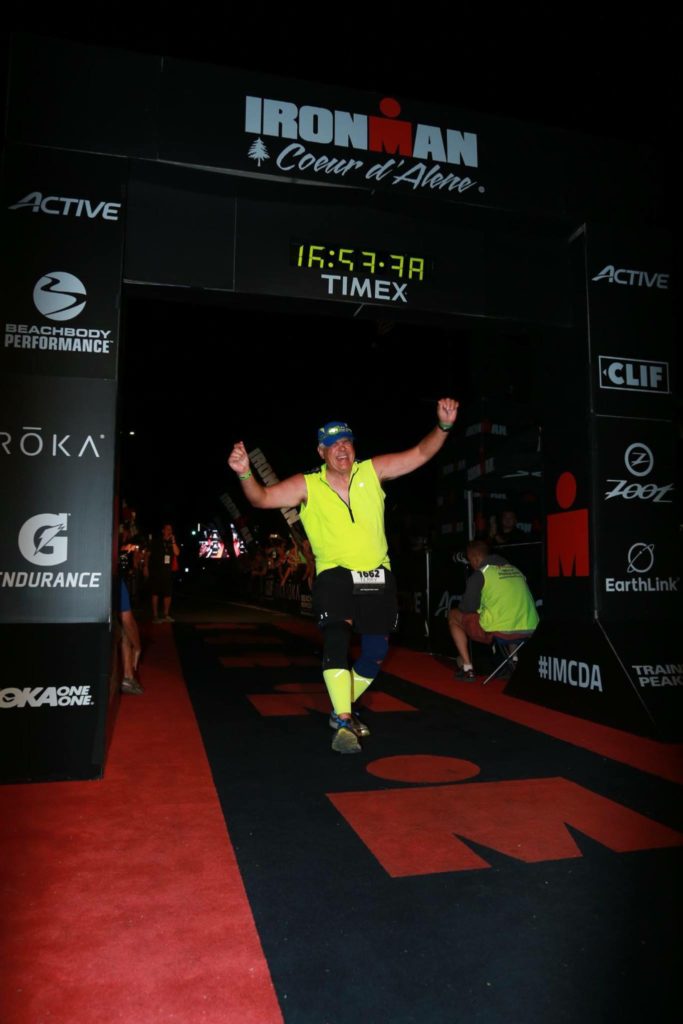 It took everything I had right to the very end.  I was the last finisher of the event.  I came in with one minute and fifty-four seconds to spare.  It was a day I will never forget.
The greatest thing I learned:
Crossing the line will get you a medal,
but the process and the people will change your life.  
Here's what you can do to finish your unfinished business:

Make a list of all the things you say or think you want to do:
Answer the question for each one of them, "Do I want to do this or not"?
Put a yes or no next to it.  Don't worry about how you'll do it that will come later.
Who are the people I need in my life to make this happen?
What's the process I need to make my dream a reality?
 If my story is an encouragement to you, please let me know.
If you know someone who would benefit from hearing my story, please pass this along.
Save
Save