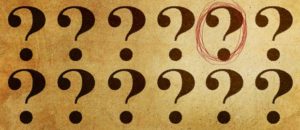 "The right question asked at the right time can change a life forever." Unknown
Questions are powerful. The right questions can help you discover:
Where you are.
Where you want to go.
How to get there.
There are three questions that changed the trajectory of my life and could change yours too.  It's never too soon, too late, or too often to answer them for yourself.
Question 1:  Do you want a second chance?
I was sitting in a room when someone asked me that question. My immediate response was "yes." I was 20 years old, with no confidence in myself and no direction for my life. Outwardly you would think I was "the man with a plan" because I over-compensated by being positive, loud and funny.
I struggled in school and college was out of the question. Because I had no idea what I was going to do for work I took any job that came along. My father was an alcoholic and very abusive and I knew I didn't want to be like him. I have dyslexia and had a very difficult time in school. I was labeled a slow learner, stubborn, and a loser. I was told I just "didn't want to learn" and that "my problem" was I had a poor attitude.
At 20 I wanted a Mulligan. A "mulligan" in golf is when you get an extra stroke after a poor shot, and it's not counted on the scorecard. It's a second chance, a do over. What if you could have a "mulligan" in life?
We all experience failure and setbacks – personally, professionally, relationally, financially, even spiritually. It could have been a failed marriage, personal bankruptcy, unsuccessful business, loss of a job, or walking away from your faith. Having just come through one of the most challenging economic times in our nation's history chances are if this isn't you it's someone you know.  When something like this happens, it can drastically affect our self-confidence and the ability to trust our own decisions. We can appear to be confident to those around us, yet struggle on the inside.
How about a second chance? I said "yes" when I was twenty. I wanted a second chance. It didn't magically change the circumstances of my life or heal the past. However, it did change me and then I was able to make the decisions that would change my life and heal the past.
How to give yourself a second chance:
Take FULL responsibility for your life, your decisions, and your circumstances.
Until we do this we will have a "victim" mindset – blaming others for what's happened and living our lives as if something was "done to me." The truth is we are responsible for our decisions, what we do and don't do, and how we respond to what's done to us. I'm not suggesting that you have never experienced the pain of someone else's decision. However, at some point we must decide what we want to do to move forward. It's our decision. All the past will do is beat you up and hold you back. Take responsibility and move on! Monitor your thoughts and your words. If you blame something or someone else for your circumstances you are not taking FULL responsibility.
Decide what you want and commit to it.  
I have a lot of conversations with people and they tell me what they don't want in life, a career, a partner. Yet when I ask them what they do want they have a difficult time answering me. It's not because they don't know what they want. It's because they focus most of their time on what they don't want. What they do want is not clear. One way to change your mindset here is to write down what you want. You will see just by habit that some of the "don't want" things will come out. Change them to what you do want. For instance: "I don't want to be on medications" can be changed to "I want a healthy –medication free life." Once you've done this make a commitment to it.
---
Over the next several weeks Terry will be sharing more with you about these crucial questions that can shape your future. In the final installment of this series we will be offering a free workbook to help you process through all he has shared. If you would like to receive a copy of this free workbook, please email jennifer@terrygurno.com for more information. Meanwhile, we hope you will pass each of these blogs along to someone else who might benefit from this powerful material. We love helping you WIN!