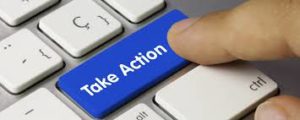 "The right question asked at the right time can change a life forever." Unknown
Last week in Part 1 I said:
Questions are powerful. The right questions can help you discover:
Where you are
Where you want to go
How to get there
Question 1:  Do you want a second chance?
How to give yourself a second chance:
Take FULL responsibility for your life, your decisions, and your circumstances.
Decide what you want and commit to it.  
And this week here are the final two steps in how to give yourself a second chance:
Create an action plan.
You've heard the saying, "people don't plan to fail they just fail to plan." You must take the next step if you want a second chance. You must make a plan. Create the actions that will give you the outcome you want and need. A good way to do this is to create a table with three columns: Column 1: WHERE I AM; Column 2: WHERE I WANT TO BE; Column 3: WHAT I MUST DO TO GET THERE. Spend some time on this.  It will become as real as you make it so don't rush it.
Get an accountability partner
It's easy to put off our plans. Things come up, we get tired and we get distracted. Once you take a day off it becomes easy to take another day off. Then it becomes more difficult to get back on track. When you have someone holding you accountable, you significantly increase your chances for success. Don't do this alone and don't believe yourself when you think you don't need anyone else. When finding an accountability partner think of someone you know, like, and trust. This doesn't have to be a best friend. In fact, it may be better if it's not. What is important is that you respect them. Once you have an accountability partner, set up a regular time and place to meet. Empower them to ask you questions about how you're doing. Are you on track? What's happening? What are you learning? Based on what you're learning, what do you need to do? When will you do it? Give them permission to give you honest feedback. This will keep you focused, productive, and moving toward the life, career, relationship you want.
If you feel like you need some more encouragement in this area, I wrote a Monday Mindset about Getting the Fire Back. I went into greater detail on the importance of an action plan and the need for accountability to accomplish it.
I believe in second chances. There's one for you if you want it or need it.