Is Terry Your Next Speaker?
Discover if Terry is the right fit for your organization and your next event.
Leading is Art: Drawing the GREATNESS Out of Those You Lead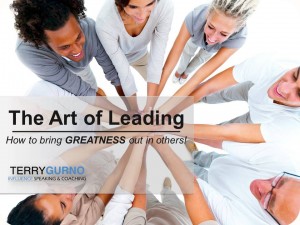 "The task of leadership is not to put greatness into humanity, but to elicit it, for the greatness is already there." -John Buchan 
If you are a leader who gets results through others, then you already understand how different people can be. Let's face it, people are just plain different in the way they think, communicate, relate to others, process information, and respond to challenges. The uniqueness of your team members is both an asset and a source of frustration. It's what makes leadership more art than science.
During this 60 minute presentation, you will discover the mindset shift that must occur before you can truly grow as a leader. You will learn how top performers think about their team members and what they expect from them. You will discover the simplest way to recapture your time and energy without sacrificing results.
OWN IT!: How to Create a Winning Culture

"A winning culture doesn't just happen, you build it"  -Terry Gurno 
Your company culture has a huge impact on its performance! It can set you apart from your competition and can be your Best Competitive Advantage. Great company cultures attract and keep the best talent, improve employee satisfaction, build an excellent reputation, increase productivity, and grow your business!
When you build ANYTHING the foundation is the most important part of the project.  OWN IT! will inspire and equip you to build and maintain the foundation you need for a winning culture. This 60 minute presentation will empower YOU to be a catalyst for change, even if you're not the "leader".
Unleashing Influence

"Every person and organization is influenced. Who or what we allow to influence our lives will ultimately determine our outcome."  -Terry Gurno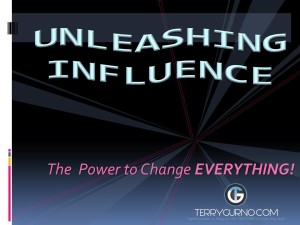 The most powerful thing about influence is you don't see it taking place.  You only see the result.  By then it may be too late.  In life and business driving the results you want is critical and the right influence is essential.
In this 60 minute presentation you'll discover four primary influences that are creating change in you and through you, how you can monitor and manage them, and how to unleash them to create the change you want in your life, community, business, and world.
What You Can Expect When Working with Me
Prompt, professional responses to your phone calls and email messages.
A phone consultation with a member of my team prior to your event to go over a pre-event questionnaire so we can better understand how to customize your event to your audience.
An announcement about your event on my blog and social media channels. (If your event is open to the public and you want additional visibility/marketing for it.)
A professionally prepared, dynamically delivered presentation focused on achieving the outcomes you want with your audience.
A custom resource page, exclusively created for your attendees. It will include the slides I used in the presentation, along with links to books, podcasts, articles, tools, PDF's and other resources I believe will be helpful.
A quick follow-up communication after the event with someone on my team, to make sure I met your expectations. (I also want to know how you think I can improve.)
I've been speaking publicly for more than 30 years as a keynote speaker, trainer, and seminar presenter.
I have invested my career in the profit and non-profit areas in vision, focus, actions, team & leadership development, coaching, and training.
Most recently I was the CEO/Team Leader of one of the most innovative and fastest growing Real Estate Franchises in America.
I now devote my time to speaking, training, writing, coaching and consulting.
I have been happily married to my best friend Nancy, thirty years. We have 3 children, and a half Lab, half Saint Bernard dog named Maci. We live in Coeur d'Alene Idaho and love it!